5 things I'm digging this week
Hey squad, we're trying something new this week to keep you on your toes. Let us know what you think and we may start mixing this in once a month or so. Shoutout to Ugmonk for the format inspiration. 
5 things I'm currently digging... #
1. This adorable, animated avatar that reacts as you type. #
In software, it's easy to overlook small everyday interactions. Especially when most designers and developers use similar standards to create those interactions. The login form on your app is a good example of this. Normally, it feels pretty standard. But it doesn't have to be. An everyday interaction is an ideal spot to create delightful experiences for your customers. Challenge yourself to look for similar opportunities this week. They're probably hidden in plain sight. 👀
2. Acquiring and running Startup Watching #
Earlier this month, I went out on a personal limb. I emptied my savings to buy a newsletter called Startup Watching. I'd been a fan of it for a while and when I saw it was for sale I thought it could be a cool opportunity to jump start my personal audience. I wrote all about the process to bring some transparency to a part of the startup world you never get to see - acquisitions. 💵
3. This hat I got from one of our recent clients. #


Repeat after me: startup swag is not a marketing channel. It's not important, so stop worrying about t-shirts. Focus on building your business instead. I really believe that...but I'd also be lying if I said I'm not a sucker for great swag. 🙈This hat is one of the nicest pieces of startup swag I've ever gotten (including my Mailchimp socks) and I'm wearing it often these days. Related to hats and clients: goofy pictures after a roadmapping session.

4. The rise of twitter threads as a way to engage an early audience #
Earlier this year, Twitter made some major changes to their feed. They wanted to mix chronological tweets with non-chronological content you might want to see. Since then, I've noticed a number of people using Twitter threads to share updates about their product, often over the course of weeks or months. With the new algorithm, replying to your old tweet will surface it in a follower's feed, but they'll still get the context from the rest of the thread too. It's non-intrusive and pretty effective. I have no data to back that up but I'm diggin' it. 

5. CBInsights's United States of Tech Startups #
Proving that you don't have to be in Silicon Valley to build the next unicorn. Click here to check out the full article. 🦄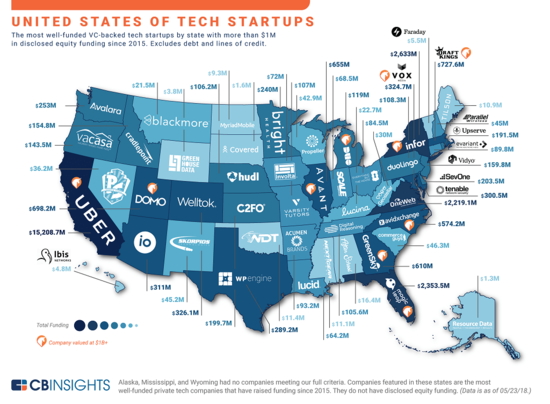 "As marketers, we should be changing the mantra from always be closing to always be helping."
-Jonathan Lister
Like this? Sign up to get a new lesson every week.
We're pulling the best articles from founders we respect as well as drawing from our own lessons learned over thousands of hours building startups.
Join 1,800+ founders and get weekly lessons delivered to your inbox.